Support@DivorcewareNJ.com
(919) 848-9282
5812 N. Beaver Lane
Raleigh, NC 27604
---
Privacy Statement:
Our website does not collect any personal information.
If you purchase the DivorcewareNJ program, as part of the sale we collect your name, email address, phone number, mailing address, the items that you purchased, and the amount that you paid. This information is kept private and not shared with anyone outside of Lieberman Consulting Group, LLC (the developers of DivorcewareNJ).
Information collected by the DivorcewareNJ program is stored only on your own personal computer.
---
Installation Error: Anti-virus issues
Some anti-virus programs prevent new programs from being installed. You will need to instruct your anti-virus program to allow DivorcewareNJ.exe, or turn off your anti-virus program. Below are hints for a few anti-virus programs.
Windows might tell you that the program is unsafe.
If you get this message, click the down-arrow and choose "keep".
If you get either of the messages below, click on "more info" and tell it to run the program, anyway.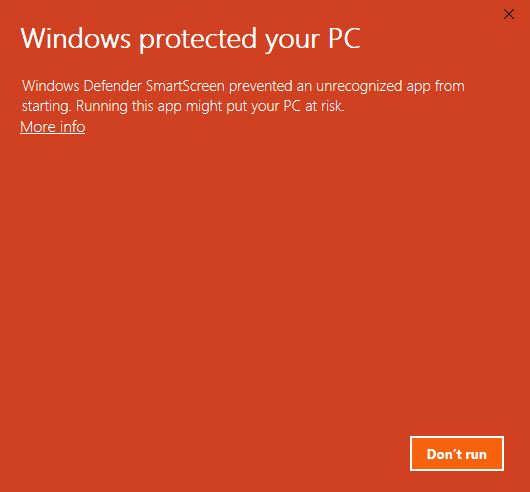 If you are using BitDefender, you will see this when installing: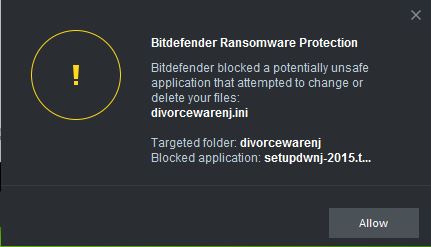 Don't click anything on the (above) window, yet!
Click the "Allow" button.
On the next screen, highlight anything that looks like DivorcewareNJ or DWNJ and click Allow.
Then you'll need to click the "Retry" button.
When you first run DivorcewareNJ, you might have to do this with BitDefender: If you are using "Bitdefender" then you will need to "whitelist" it. On Bitdefender's main screen, click on Modules in the lower left-hand corner. Then under Ransomeware Protection, click on Trusted applications. Click the Add button, locate the DivorcewareNJ.exe program, probably in the C:\Program Files (x86)\DivorcewareNJ folder, and click Ok.
Installation Error:
Most probably, you have an anti-virus program that is preventing DWNJ from creating files in that folder (indicated in the error message). You will have to tell your anti-virus program to allow DivorcewareNJ.exe to write files to your computer.
If you are using "BitDefender": (1) Bring up BitDefender and click on Modules. (2) Click on Blocked applications and see if DivorcewareNJ.exe is on that list. If so, highlight it and click Allow. (3) Click on Trusted applications and see if DivorcewareNJ.exe is on that list. If not, click Add and find c:\Program Files (x86)\DivorcewareNJ\DivorcewareNJ.exe
"Resource file is not valid."
Please try (1). If that doesn't fix it, then try (2).
(1) Go to this folder: C:\Users\Public\Public Documents\DivorcewareNJ\Temp
and delete these two files: foxuser.dbf and foxuser.fpt
Then click "Yes" on the error window.
or try this…
(2) Uninstall DivorcewareNJ. (This is safe to do. It will not delete your data.)
Then re-install the program. (Your data will still be there.)
If that doesn't fix it, please contact us at support-at-divorcewarenj.com
In the meantime, click "Yes" and continue to use the program. It will run ok. It's just that the message is an annoyance.
---
Networking: Sharing Data Files
Where the data files live:
The file "DivorcewareNJ.ini" is located on each computer (it is not shared, even if it is in a shared folder). This file contains the location of your data files. It's a txt file and you can edit it if you need to. The DivorcewareNJ program looks into this .ini file in order to find out where your data files are. This is especially important on a multiuser networked environment.
The DivorcewareNJ.ini file is located at:
On Windows 7, 8, and 10…
C:\Users\Public\Documents\DivorcewareNJ
On Windows XP…
C:\Document and Settings\All Users\Documents\DivorcewareNJ\Data
So, where are the data files, usually? That is, where does DivorcewareNJ.ini point to?
On Windows 7, 8, and 10, the best place to put the data files is in
C:\Users\Public\DivorcewareNJ\Data
and
C:\Users\Public\DivorcewareNJ\CIS
On Windows XP, the best place to put the data files is in
C:\Document and Settings\All Users\Shared Documents\DivorcewareNJ\Data
and
C:\Document and Settings\All Users\Shared Documents\DivorcewareNJ\CIS
If the data files are on a networked computer, the location might look like:
on Win 7, 8, 10: \OtherComputer\Other C\Users\Public\DivorcewareNJ\Data\
on XP: \OtherComputer\Other C\Documents and Settings\All Users\Documents\DivorcewareNJ\Data\